Common Home Wi-Fi Issues
Maintaining optimal performance and speed for gaming, video streaming, and smart home devices is important, but now that so many people are working from home for the foreseeable future, you should pay special consideration to the effect of critical work applications (especially video conferencing and large file transfers) on your home's wireless Internet connection (Wi-Fi).
If you have a larger home (1,500+ square feet) then you've probably noticed that getting a strong Wi-Fi signal in all areas of the house can be also be a challenge.
If your main wireless router happens to be sitting near the edge of your home, this can result in poor Wi-Fi signal toward the opposite end of the property. Typically, this is due to the fact that your Internet company will install their modem/router device near the edge of a home by default – because that's where the cable comes in.
If you're only using the modem/router device provided by your Internet company, you will be severely limited when it comes to expanding your Wi-Fi connectivity – unless you upgrade your network hardware.
Home Wi-Fi just "meh"? Get Mesh
Since early 2020, many newly-minted remote workers have found themselves trying to get work done while using sub-par Wi-Fi, oftentimes competing with their new "coworkers" and family members for precious Internet bandwidth and physical workspace in the home.
Compounding the Work From Home Problem has been a recent increase in regional Internet outages – a result of increased bandwidth usage on residential Internet services that were never designed for a sudden COVID-induced surge of people working from home.
In particular, Internet Service Provider (ISP) networks have been straining under the load of increased usage of videoconferencing apps from residential connections everywhere: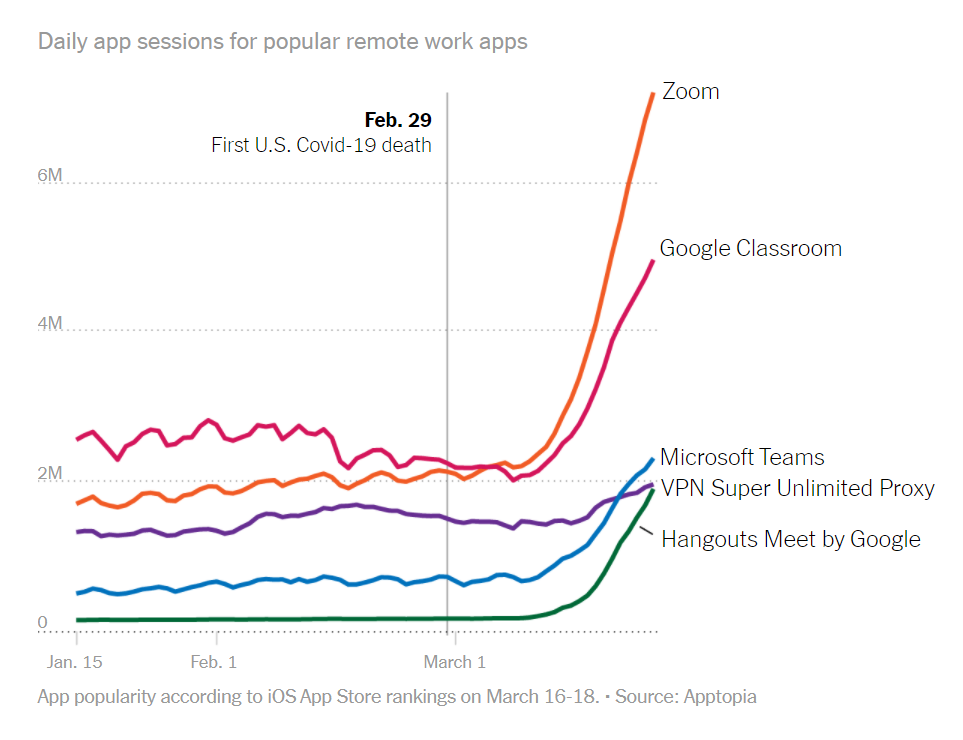 In addition to the problems caused by spotty Internet outages, up until recently there have been few good options for expanding your home's wireless network signal.
Some possible solutions could include:
Installing one or more wireless repeater devices
Install one or more Ethernet over powerline adapter devices
Running Cat6 network cable through your walls/ceilings, connecting one or more wireless access point devices
While the first two options, repeaters and powerline adapters, don't require much advanced technical knowledge to install, both device types often result in slower Wi-Fi speeds and an unreliable connection that drops in/out constantly (what a headache!)
The third option, favored by IT professionals who install high-performance networks for business customers, is usually very costly to install in a home – and definitely not a "do it yourself" project for homeowners.
Fortunately, there's good news! The past few years have seen a rapid improvement in one particular type of networking technology, one that happens to be ideally suited for home use in terms of performance, cost, and ease-of-setup: Mesh Wi-Fi Systems
What is a "Mesh Wi-Fi" System?
Designed to blanket your home with wireless coverage, Mesh Wi-Fi systems are a hybrid of sorts, made up of several networking components. There's a main router that connects directly to your modem, and a series of satellite modules, or nodes, that you place throughout your house.
The router and nodes are all part of a single wireless network, and share the same SSID (or "wireless network name") and Wi-Fi password. Unlike range extenders, which communicate with the router via the 2.4GHz or 5GHz radio bands, Mesh Wi-Fi system use mesh technology to talk to the router and to each other over a high speed wireless connection.
Because a mesh Wi-Fi system uses several devices to create a single wireless network, they are the ideal solution for large homes and property, handling the farthest rooms with ease and providing coverage to the different floors of multistory homes – without the need to run additional cabling.
A basic mesh system gives you whole home coverage with superb Wi-Fi performance and a seamless experience everywhere in the house. You can even extend coverage out to the backyard or the garage!
Let's look at some of the most popular Mesh Wi-Fi Systems currently available.
Google Nest Wifi
When Google announced in 2014 it's $3.2 billion cash purchase of Nest.com, the tech giant's goal was to gain market share in the emerging "Connected Home" category of consumer products (lead by Amazon's "Echo" smart home device powered by the "Alexa" AI assistant).
As it turns out, the acquisition later resulted in the creation of highly-capable Mesh Wi-Fi system several years later: Google Nest Wifi
From the company's website:
"Google Nest Wifi is a scalable system that gives both whole-home coverage and a consistently strong signal. Each Nest Wifi point is also a smart speaker with the Google Assistant."
If you're already a Google user with a Gmail account, this Wi-Fi system could be a no-brainer for you – especially since the system only costs $269 (for 2 devices) at the time of this writing.
Setup is easy and can be done from an app on your smartphone (no tinkering around in router web interfaces is required).
Not a Google fan? Interested in a slightly higher-powered and advanced solution? Try Ubiquiti UniFi (see below)
UniFi AP BeaconHD Wi-Fi MeshPoint
The Ubiquiti UniFi product line is considered by many as a "prosumer" (professional consumer) category of networking hardware, making it ideal for both small business network implementations and home installations alike.
While not as easy to set up as Google Nest Wifi, Ubiquiti's UniFi product line is more than capable of powering even the busiest of home networks.
Not for the technically disinclined, achieving a full Mesh Wi-Fi setup with UniFi requires the installation and setup of at least one router (such as the UniFi Dream Machine) and one mesh node (like the UniFi AP BeaconHD Wi-Fi MeshPoint). There's a smartphone app for Android and iOS you can use to help simplify the setup.
Some of the features of the UniFi MeshPoint:
802.11ac Wave 2, 4×4 MU-MIMO technology
300+ Mbps performance over a wireless mesh hop
Works with UniFi AP or Dream Machine
Automatically discovered for adoption by UniFi Network Controller
The Dream Machine and MeshPoint are currently priced at $299 and $129 (respectively), making them slightly over 50% more expensive than 2 similar Google Nest Mesh Wi-Fi devices.
However, if you're looking for maximum performance, advanced security and monitoring capability, remote network access, and more, UniFi is hard to beat.
(Disclaimer: we install UniFi networks almost exclusively for Silverleaf business clients)
Mesh Wi-Fi Installation Tips
To achieve the best results when creating a Mesh Wi-Fi network, individual nodes in the network should be placed far enough from one another so they broaden the signal, but close enough so they can still communicate with at least one other node in the Mesh Wi-Fi network.
Some trial and error can be expected when determining the optimal placement of your nodes, considering the unique layout of your home (a wireless network diagnostic app for your smartphone, such as Network Analyzer, is an invaluable tool for setting up any new Wi-Fi network).
More Information
If you have questions about your work from home network setup, please feel free to contact us.