Sometimes, I'll be watching a movie, and I can't help but notice the technology that is featured in the film. I'm not talking about revolutionary CGI effects, distracting Apple product placement, or cool futuristic gadgets, however. I'm referring to technology in cinema that is not always portrayed as… accurate.

So in the spirit of yesterday's Oscar awards, here is a short list of some of my favorite, stupidest, and funniest tech moments in cinema!
Stupid Tech Moments in Cinema
Robocop (1987)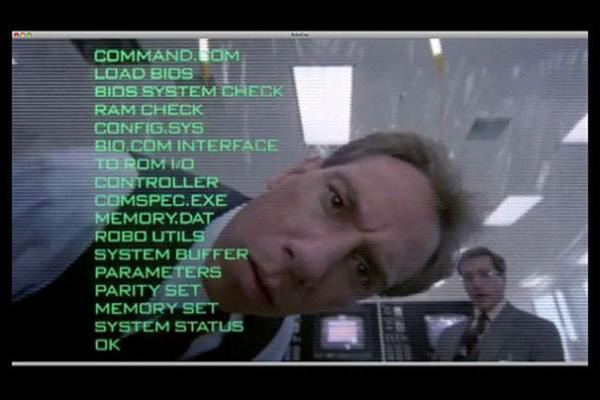 Way before billionare playboy Tony Stark battled evil onscreen with the help of a mechanical suit, Detroit policeman Alex J. Murphy was wasting Wall Street yuppies, scummy druglords, and inferior stop-motion bots as Robocop.
One of my favorite moments in the film is the first time we see Robocop "booting up". I was so excited to see what kind of software he could be running–wait, is that COMMAND.COM in the upper-left corner? Yep, Robocop runs MS-DOS.
Hopefully, we'll see Robo running a fully-upgraded OS in the new film!
Independence Day (1993)
Earth is attacked by an alien civilization so advanced they have an entire fleet of interstellar craft, piloted by beings so tough they can even survive a direct punch to the face from Will Smith. Impressive!
But I start losing respect for ANY alien civilization that doesn't implement basic network security (hardware firewalls, encryption, etc), and allows a single Earth-nerd to take down the shields of their giant mothership with a computer virus using a 1996 MacBook.
Next time, aliens, don't blow your whole budget on lasers, and invest in a bit of cyber-security instead.
The Dark Knight Rises (2012)
Few superheroes employ cooler technology than Batman. With billions of dollars of funding from Wayne Enterprises at his disposal, Batman always sports the best armor, weapons… and vehicles, such as the iconic "Batmobile".
But in The Dark Knight Rises, our hero pilots a new vehicle called "The Bat" – a clunky flying machine with a tiny helicopter rotor positioned on its underside, supposedly capable of high speeds and precision maneuvering in tight urban environments.
Couldn't they have used a few vector thrust jet engines instead, just to make it look more realistic? Well, at least "The Bat" is more believable than a giant flying aircraft carrier, I guess.
Johnny Mnemonic (1995)
Keanu Reeves has to store 320 GB in his brain and might die from it within 48 hours because he's only used to carrying 160 GB.
A movie in which Keanu Reeves has too much information in his brain? Just stupid.
Weird Science (1985)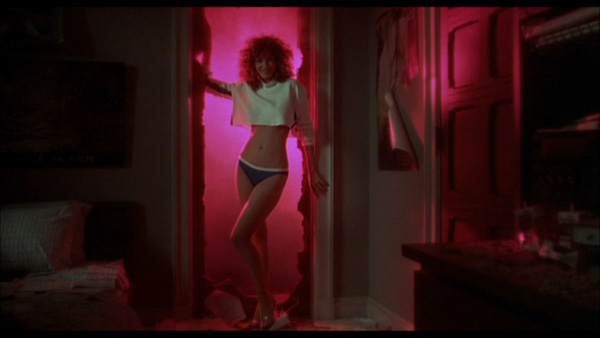 It's difficult to put Weird Science on this list. After all, it's a 1980s film about two teen-aged boys using a computer to create the ideal babe.
Maybe computers still seemed somewhat magical back in 1985? It's the only way to explain how two dateless teen-aged boys, desperately trying to program a computer simulation of a woman, end up with Lisa, a living, breathing and totally beautiful creation with supernatural powers.
Jurassic Park (1993)
"It's a UNIX system… I know this…" and the 10 year old girl proceeds to use a 3D flying interface to secure the door of the control room against velociraptor invasion.
As it turns out, the technology is not ridiculous — this is an actual UNIX program, a 3D file system browser called FSV that was created by Silicon Graphics. But the fact that a 10 year old girl would have come across it at school in 1993 is completely implausible.
Swordfish (2001)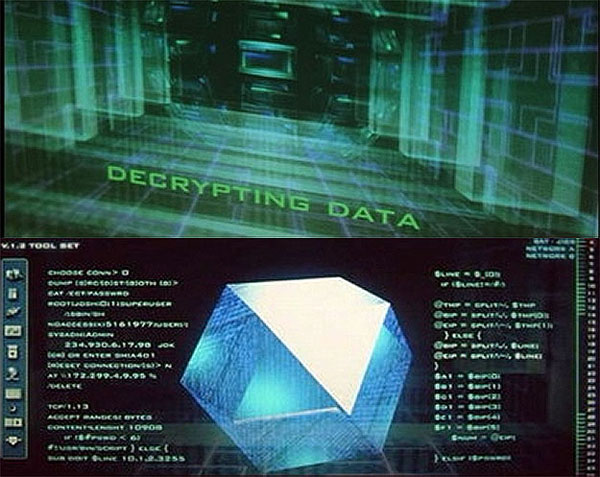 I think a lot of people would argue that watching someone sitting around programming a computer is really not that exciting. Computer hacking, in particular, is a tedious activity that involves a lot of sitting around, waiting for encryption-breaking programs to finish running, and/or soliciting your grandmother for her AOL email password.
In this movie, Hugh Jackman plays an expert hacker who breaks in to the government's computer, drinks a lot of wine, and acts like he's in some kind of concert or something during the actual hacking… who knew hacking was so fun?
Firewall (2006)
"10000 songs, 10000 accounts, it won't know the difference."
Harrison Ford connects an iPod to a scanner which he sticky tapes to a computer screen to steal information. Apparently, computer hacking is also quite easy!
2001: A Space Odyssey (1968)
This classic movie gets an honorable mention – but not because it features any memorable "stupid tech moments".
On the contrary, 2001 depicts a very smart, very memorable "oh sh!t" tech moment… when the sentient HAL 9000 supercomputer takes charge of the spaceship and tells its human controller:
"I'm sorry, Dave. I'm afraid I can't do that."
(Fun fact: if you have an iPhone, ask Siri to "open the pod bay doors". Her response pays homage to this epic tech moment in film!)
I can only imagine the terror that this poor sap felt, when he realized that his life was suddenly at the mercy of an uppity machine. Fortunately, you can all sleep tight, knowing that your next "stupid tech moment" will probably not result in a homicidal computer throwing everyone out of an airlock, or starting a nuclear war.
Sentient computers capable of such things only exist onscreen…for now!