A big dry cleaning business was having serious problems with network outages.
Dry Cleaner Network
The client reported that a previous company had installed a new cloud-based POS system for them a few months back: shortly after, the client's business began experiencing multiple dropped connections and daily network downtime.
The unstable network was impacting the client's ability to access their main customer database and process credit card payments, resulting in serious disruption to the business and significant financial loss.
The previous company that installed the POS system was not offering a solution, so the client turned to a professional IT service provider that was local and could provide immediate help – us!
Technical Assessment
During our initial Technical Assessment, we discovered:
40+ previously undocumented devices on the network
A mix of wired and wireless POS terminals, workstations, printers, and a legacy server
Two Internet modems (client was manually switching between them with a cable, in an attempt to resolve their network outage problem themselves)
Multiple insecure Wi-Fi SSIDs, weak Wi-Fi password(s)
An aging firewall/router with (unchanged) default admin password
Improperly installed network equipment (main switch placed on the factory floor was covered in dust, had damaged ports/wires – see image above)
Patchwork of old network cabling and daisy-chained network switches
No remote monitoring & maintenance (RMM) solution
After the initial assessment, it was clear that this client's network was in need of a major overhaul!
Solution
Because a complete re-wiring of the building was not an option due to cost, our solution for getting the business network stable began with replacing the core network hardware (firewall/router, wireless access point(s), and network switches) and working outward to locate specific points of failure.
Installing a remote monitoring & maintenance (RMM) tool helped us track down several troublesome devices connected to the network (credit card terminals, switches/WAPs hidden under desks, a legacy POS server) and fix them.
Our RMM tool also produced the data we needed to hone-in on several bad cables – these cables were immediately replaced, and the network outages stopped!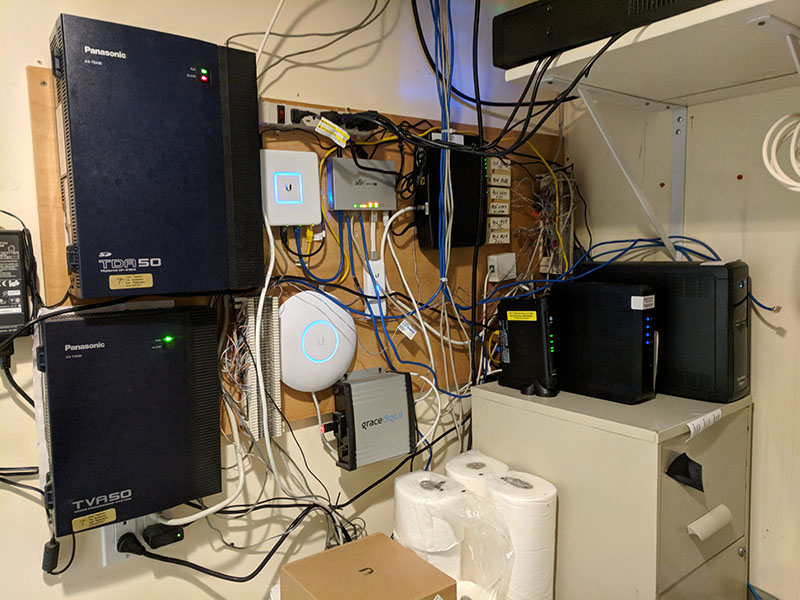 Follow up
The client was so happy that their business finally WORKED. They signed up for our managed IT services plan, knowing that if they ever had a network or IT problem in the future, we would be here to help.
(Client name withheld for privacy)